PETER. N OBAN
HARP MUSIC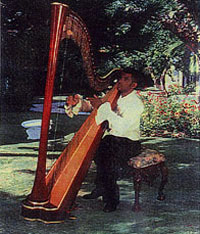 Golden Classics

24 golden classics interpreted and recorded in Peter's own stlye.
Includes: Spanish eyes, Spanish Harlem, Wedding March, Fuer Elise, Music of the night, Edelweiss, Speak softly love. etc.
Price: US$10
50 Poems

Here Peter Oban collaborates with some of Jamaica's leading theater, drama and stage personalities to present a book and CD, blending harp music with Psalms and original Poems.
The resulting shades and contrasts are beautiful
Price: US$15

Other CDs available by Peter Oban



Classics Vol. 1
16 -19 Century pieces for piano. Works by Bach, Mozart, Gedike, Handel, Beethoven.
Harp 4 Praising the Lord.
13 tracks consisting of all time favourite Church hymns and themes.
Ably assisted by Saxophone, Piano and Cuban guitar. Peter does all other instruments and vocals. Songs include The Lords prayer, The 23rd Psalm, Amazing Grace, Ave Maria, Canon in D. etc.
CONTACT

Peter. N Oban
116 Torado Dr.
Montego Bay
Jamaica
P.O. #1
Box 131, St. James.
Phone (876) 953-3723
Cellular (876) 824-3438
Email: nathan1@cwjamaica.com
[ Go Back ]