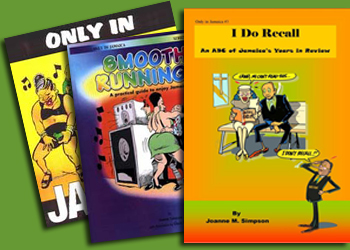 SPECIAL PACKAGE DEAL -- ALL 3!
Find Humour in the History!

J$1,500.00 | US$20.00 including shipping and handling
J$ Order | US$ Order
"I Do Recall"
An ABC of Jamaica Years in Review

Review:
"Joanne Simpson has once again turned her focus on Jamaica to find fun and foible for her reader's enjoyment. A shrewd observer of the "goings on" in society and bold enough to call it as she sees it, her books continue to be hot sellers in Jamaica and enjoy wide distribution throughout the Diaspora. This publication, "I Do Recall," is likely to be no different, so brace yourself for an informative and hilarious read." …….. Basil Smith
Illustrations by Clovis.

Price: J$750 | US$10.00
J$ Order
|
US$ Order
---
Smooth Runnings
A Practical Guide To Enjoy Jamaica
A racy and instructive visitor guidebook which attempts to smooth out some of the kinks visitors may find during their vacation. The book is an illustrated and hilarious insight into the sights and sounds of Jamaica and the peculiar habits of the Jamaican people.
Price: J$650 | US$7.00
J$ Order
|
US$ Order
---
Only In Jamaica
A light hearted look at highs and lows of Jamaica in 1990s
An illustrated Social Commentary on life in Jamaica during the 1990s. This topical 40-page book captures in words and hilarious cartoons, the many high points and bumps-in-the road that Jamaica experienced over the past decade
Price: J$650 | US$7.00
J$ Order
|
US$ Order
Shining Through
A book that every Jamaican or those interested in Jamaica would be proud to have. Shining Through captures the spirit of the Jamaican people in their challenges and in their victories over the last 50 years, set against the background of our colourful history. The book offers indepth and up-to-date status reports on important sectors to give you a hand on the pulse of this dynamic country. We are indeed a nation gifted with enormous talents and gifts. Our special brand of things Jamaican that has made us special and our people, beacons to the world. Read about our legendary sportmen and women, our mystic musicians who have drummed a beat that resonates across the globe. You may wish to know....a tiny island that seems to keep the world on its toes..... Indeed, our people are the stuff from which legends are made!

We have much to celebrate even amidst our challenges. A must read.
Projected price: J$3,600..... US$40.00
Pre-purchase offer:J$3,200 .. US$35.00
J$ Order
|
US$ Order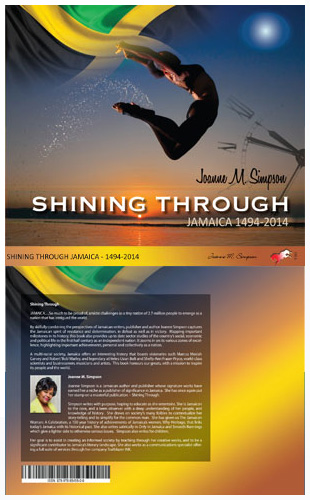 The Jamaican Woman: A Celebration captures the spirit of the Jamaican woman in her rise from obscurity to towering heights in every sphere of the professional world, in Jamaica and the international community. This highly pictorial biographical treasury provides historical accounts as well as current resource information on some 200 of Jamaica's outstanding women dating back to the 20th century, mapping their involvement in the areas of high academia, politics, business and management, science, law enforcement, visual and performing arts, sports, fashion and beauty.


Endorsements:
"A beautiful book and a commendable representation of Jamaica's gender power." Professor Rex Nettleford, Vice Chancellor, University of the West Indies

"An excellent piece of work which shows how competent are Jamaican women and how diverse their range of occupations and activities. Bravo!" Angela King, Assistant Secretary General, United Nations

"The book is a remarkable record of Jamaican history. Joanne Simpson took on a labour of love to document these special Jamaican women, in tribute to the good women in her life, beginning with her own mother. That a woman should celebrate excellence in womanhood, is a testament to a spirit of wholesome giving, of humility and of respect for accomplishments of others"...Barbara Blake, Jamaican Writer and Media Specialist

"The Jamaican Woman: A Celebration provides a pillar of support, not only for Jamaican Women, but also all other women...Simpson goes all out in her quest to highlight the indelible contributions of her sorority. And dare we say, mission accomplished!" Jeanne Toussaint, SHE Caribbean magazine.

**Recommended as reference text by the Ministry of Education for tertiary level students of History, Sociology, Gender Studies, Sports, Politics and the Visual and Performing Arts. Also, can be used as resource text for Grade 7 & 9 Social Studies, CXC, CAPE Sociology, CXC, C-SEC Social Studies, CXC,
C-SEC History & SSC,Social Studies

Hardcover
Only J$4,000.00* or US$45.00* click below to order
J$ Order/US$ Order

SPECIAL PROMOTION
J$4,000 | US$45.00


Re-live the courage and determination
of 200 of Jamaica's outstanding women. A biographical and highly pictorical collector's item


Click for Details
Dear Mr. Jesus

All children are precious. They are gifts to the world, the torch bearers of future generations. The quality of life they receive, will determine the quality of life they will experience later. They are inextricably linked not only to Jamaica's future but also the world's future. There is stark difference in the quality of lives of Jamaica's children. Many are from stable families, some from wealthy homes and who are able to enjoy the joys of childhood and access opportunities for a brighter future. Yet, like world statistics, one in four of Jamaica's children lives in abject poverty. Many live feral lives; existing under degrading human conditions, and are exposed to daily atrocities, violence, hurt and pain. Poverty is at the root of their existence. Much is being done to help our children; still, much more needs to be done. It is out of concern for the plight of our children that birthed 'Dear Mr. Jesus,' a simple and beautiful book. See how Jamaica fears in meeting the guidelines of the United Nation's Convention on the Rights of the Child to which the country became a signatory in 1991.

Listen as Jamaica's children speak about their realities….in prayers.

Paperback Only J$1350.00* or US$15.00*

click below to order

J$ Order

/

US$ Order
The Author
I am a Jamaican woman with many stories to tell. The book is hardly an inch by inch commentary of my life, but instead contains snippets of important events that have taken me through the fire and have added colour and dimensions to an ordinary life. I have been programmed for success, and this has helped me to weather in-credible lows and to rise decidedly to stake my claim on my goals and desires. With God at my centre, nothing can stop me now. I came into this world wanting to make a difference. Like you, I am still in process. This book is not by accident for I know there are kindred hearts wishing to hear my stories as I am prepared to open my heart to share with them. So, I am wishing through a joining of spirits that inspiration will flow to you, my reader, as you share my journey to the comfort zone in, 'The Tender Side of Me.'


SPECIAL: J$1,350.00 US$15.00 click below to order
J$ Order/US$ Order








21st Century Anancy teaches good values



Anancy was a naughty little spider man from Jamaica who thought he was so 'cool' playing tricks on his neighbours for fun. He was soon to learn that making people unhappy was a bad thing, when a fat guy in a red suit accidentally sat on him early one Christmas morning


Only J$850.00* or US$12.00*
(Anancy and the Christmas 'Bimmer')
click below to order
J$ Order/US$ Order

Only J$300.00* or US$4.00*
(Anancy and Friends)
click below to order
J$ Order/US$ Order


Companion colouring book to Anancy & the Christmas Bimmer

Understanding our past for a brighter future

Knowledge and understanding of one's past is empowerment. 'Why Heritage,' set against the background of the country's historical legacy, gives shape and form to today's Jamaica. This picturesque publication takes you through an eventful past; from slavery to emancipation, independence and after. Read the highlights of important connections in the areas of Government, Security, Culture (music, dance, festivals, dress, religion and Education), National Symbols, National Heroes, Heads of State, Historical Towns and Landmarks, Culinary Delights and Currency.

**Recommended as reference text by the Ministry of Education for all educational institutions. It is especially suitable for students of history and social studies, C-SEC (CXC) and SSC Social Studies.

.
Only J$1,450.00* or US$16.00* click below to order
J$ Order/US$ Order
FOR VOLUME DISCOUNT
Contact the Author at: trailblazerink@yahoo.com
P.O Box 886, Constant Spring
Kingston 8, Jamaica

* All prices include shipping & handling in Jamaica and to USA, Canada, UK and the Caribbean