P.O Box 473

Christiana, Jamaica W.I.
Telephone: (876) 964-2243

Fax: (876) 964-2765
E-mail: villabella@cwjamaica.com.
---
Experience at Villa Bella the broad stroke of nature's best palette--birds, exotic flowers and brilliant sunsets.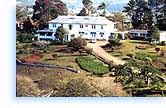 Savour fresh mountain air. Unwind on the breezy, wrap-around verandah and enjoy the landscape as well as a meal. Snuggle into an armchair in the airy sitting room and read a novel or stroke the cat. Attention-craving dogs will soon appear, making you feel aright at home. Order from a tempting menu of local and cosmopolitan fare in the cosy dining room. Sip a drink in the cool shade of the covered terrace and contemplate the distant hills.
Facilities
Hotel Villa Bella, built in 1941, is the oldest continuously operating hotel on the island. Perched on a hill overlooking six acres of landscaped grounds, its colonial charm is as refreshing as the mountain climate. It is surrounded by banana, citrus, Barbadian cherry, poinciana and flame of the forest trees.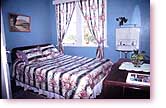 The eighteen quaint bedrooms offered by the main house and annex, boast mahogany floors, the original victorian and art deco furniture, private bathrooms and garden or mountain views. Villa Bella beckons you to enjoy old world charm, simplicity and quiet pleasures.
Location and services
Hotel Villa Bella is located in Christiana in the central mountains of the south coast, fifteen minutes from Mandeville, the nearest town. Here, temperatures range from the 70's daytime, to the 60's nighttime.
Tours to places of interest near Christiana can be arranged from Villa Bella to : Gourie Caves (wet), considered to be the most extensive in the island, Quashie Caves (wet), Appleton Rum Factory, YS Falls, and the Black River Safari. For birdwatchers there are more than 1000 species at Marshall's pen, the 300-acre estate of Jamaica's leading ornithologist. For flora and fauna enthusiasts there are cockpit country hikes and tours led by trained guides.
Villa Bella caters to groups of up to 26 - seminars, church groups, adventure tours, weddings, and seats 160 on the covered patio, 30 in the dining room, and 26 on the verandah. Our cuisine is touted as Jamaica's finest.